Welcome to ML Erectors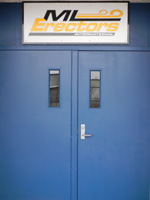 Our company, started in 2004 as an installation contracting service, was utilized by the post press industries leading manufactures. ML Erectors performed numerous installations for companies such as Muller Martini and Goss International. At the same time providing service on inserters, stackers and conveyors to many in the newspaper and commercial print markets. In just a few short years ML Erectors has evolved into a full service post press service provider.

Whether you need installation, service, parts, or rebuilding ML Erectors is there for you, ready to help make sure your products go out the door as efficiently as possible. We realize that today's market challenges and tighter budgets demand flexible and affordable solutions for production operations. ML Erectors takes great pride in the fact that our team, with a combined experience of over 100 years in the post press industry, stand ready to work with your organization to discover the best solutions for you.

With our new 30,000 square foot rebuilding facility, with manual and cnc machining capabilities, ML Erectors can meet all your needs in the field or at our facility.
As markets tighten and staffing shrinks, time and manpower to properly maintain equipment becomes a bigger and bigger challenge. Now more than ever efficient, reliable equipment is key to maintaining profits. Maintenance is the key to reliability. With ML Erectors custom maintenance contracts, we can design a plan that keeps your equipment running smoothly and your costs to a minimum.
Post press equipment has always been designed to last. Harsh environments and brutal work loads demand tough equipment. With upgrades in technology the basic frame you purchased 10, 20 even 30 years ago is still viable! Rebuilding/refurbishing provides you with basically new equipment without the extensive "heavy iron" costs of newly manufactured equipment.
Our Customers Say...
"ML Erectors has performed like no other erection company that we have contracted before. Their work ethics and drive to accomplish a project, goes above and beyond any company I have worked with, including my own."
Read More...
"Matt has always understood the old saying that we rise or fall together and he has made teamwork with my plants, job number one in our relationship."
Read More...